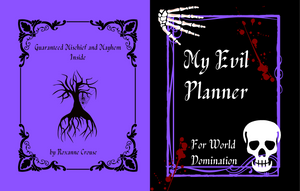 My Evil Planner Customizable 13 Month Planner For Villains Spiral Bound
My Evil Planner For World Domination is a customizable 13 month Planner Full of Mischief and Mayhem. The planner has Halloween theming from the point of view of a villain. If you have always felt dark and evil inside then you will love this planner.
You can start the planner on any month because the 13 months are blank and customizable. At the beginning of the planner is a section for yearly planning. Each monthly section has an area for grocery lists, to do, and two customizable pages with a dot grid and lined page. At the end are 13 pages for notes.
187 Pages
8.5x11 size
Print Version
Customizable for any year starting on any month

Available on Amazon