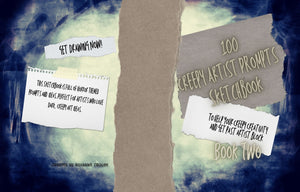 100 Creepy Artist Prompts Sketchbook To Help Your Creepy Creativity and get past artist block Book Two:

This Sketchbook is full of Horror Themed prompts and Ideas Perfect For Artists who Love Dark Creepy art ideas.
If you are looking for some dark inspiration to spark your creative juices, then get ready to unleash your inner creepy artist with the 100 Creepy Artist Prompts! These prompts will help you get past art block and create some spooky art. Whether you want to combine two or more of the prompts, or just use one as a starting point, these prompts are sure to give you the dark inspiration that you need. So what are you waiting for? Get ready to unleash your dark side!
8.5 x 11 size
111 pages
100 horror prompts
Space on each page to sketch your idea
An area to test your art supplies
Soft Matte Cover
Available at Amazon Free with Kindle Unlimited